Learn how IDRS is boosting the efficiency of LEO satellite fleet ops by removing the limitations of restricted connectivity.
Once integrated into a LEO spacecraft, the IDRS terminal brings the capabilities of the Inmarsat BGAN system to space. By leveraging the INMARSAT-4 GEO constellation and its BGAN ground infrastructure, global coverage and connectivity are achieved. The need to wait for a LEO satellite to pass above a ground station is eliminated – replaced by real-time, always on connectivity.
Increase connection time with your LEO satellites by up to
2375%
Of the orbit
Traditional
Without the Inter-satellite Data Relay System (IDRS), communication with your satellite is enabled about 4% of the orbit.
With IDRS
With the Inter-satellite Data Relay System (IDRS), communication with your satellite is maintained up to 99% of the orbit
What does a real-time connection mean in terms of the availability and reliability provided by the BGAN communications network?
Network availability better than 99.5% (dual gateway redundancy)
Link budget availability better than 99% (rate adapted air-interface)
IP session continuity during rapid GEO satellite spot beam handovers
Latency: 0.5 – 1.5 seconds end to end
Capable of supporting data rates in excess of 200 Kbps for LEO satellites in all orbital inclinations and at altitudes of up to 1000 km
The IDRS i100 Transceiver
The IDRS i100 Transceiver is a small and compact full duplex radio transceiver that provides full Internet Protocol connectivity to LEO satellites anywhere under the coverage of Inmarsat I-4 GEO satellites.

The IDRS terminal can support several types of antenna, providing the system different ways of positioning pointing towards the satellite. Antenna selection is considered during mission planning and satellite bus design.
IDRS Terminal Specifications
THE i100 TRANSCEIVER
Antenna Options
Directional antenna and Hemispherical Switched antenna options available
Power consumption
RX only, 8 watts
RX & TX: 9-10 watts, typical, dependant upon traffic and antenna configuration
IP Connectivity
Ethernet interface supports the full range of satellite application protocols: FTP, SSH, Telnet, HTTP, etc
Temperature range
-25 to +55°C, operational
-40 to +80°C, storage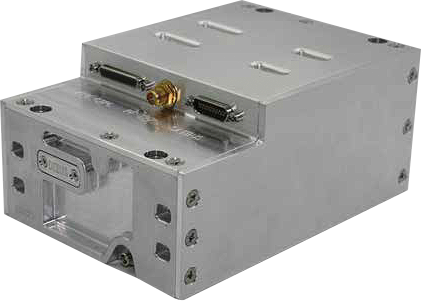 Ground Infrastructure
A critical part of Inmarsat's investment in the ground network has been the development of a high-speed, global software-defined network (SDN) and the use of Networks Function Virtualisation (NFV.) SDN manages all parts of the network – Satellite Access Stations, data centers and meet-me points – and automates and synchronizes many tasks. NFV enables many of the routing, management and security functions to be software-driven and hosted within the cloud. In combination, these two technologies allow Inmarsat to scale and meet existing and future needs of the higher capacity satellite systems and network services.